Campground map
We offer a variety of sites from Tent Sites, to Water & Electric only, to Full~Hookup Sites.
There is a flushing port-of-john and a water spigot for your convenience in each of our tent section areas.
Should you have any questions about a site please feel free to call us at 724-783-6000.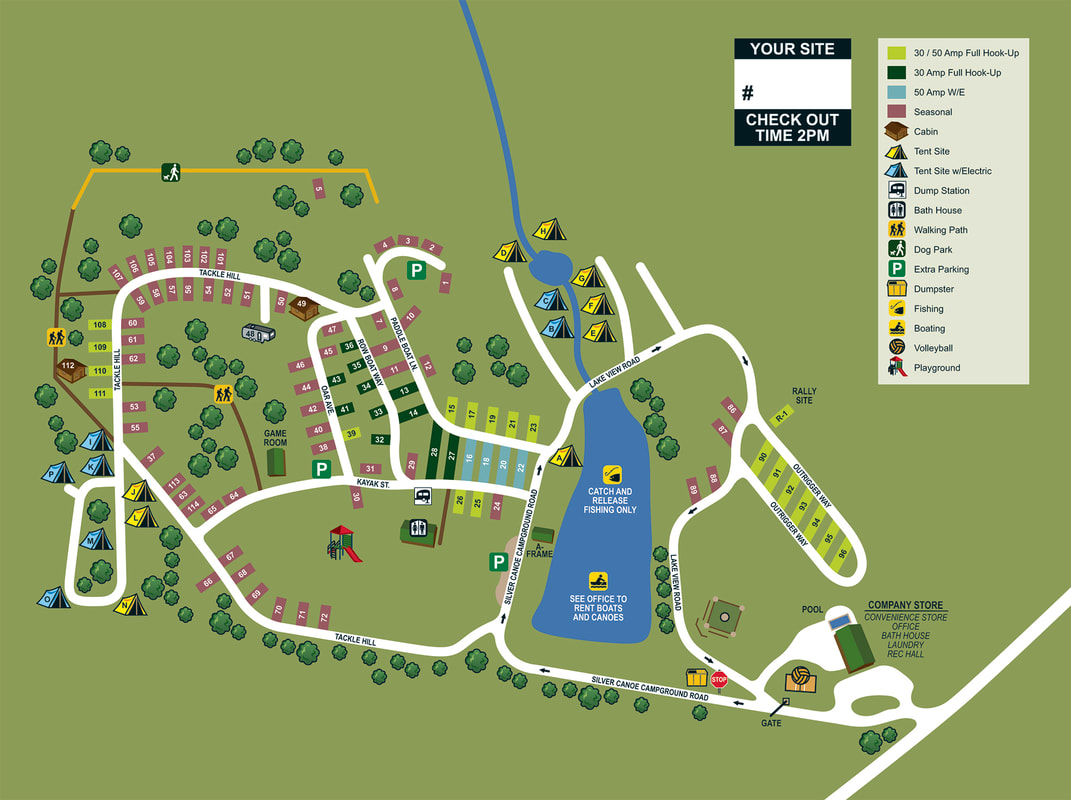 CAMPGROUND RULES
1. Alcoholic beverages are to be consumed at your campsite, PLEASE no walking around with open container. - No Kegs
2. Anyone destroying any foliage or clearing of underbrush or any other alterations to the campgound will be asked to leave immediately.
3. All Campers are to register upon arrival.
4. Only one RV, fire ring, and picnic table per site. Two cars are allowed per site; each car MUST have a car tag in the window. Any extra cars can be parked in any of the extra parking areas. No giving the gate code to anyone who is not a registered guest. Tents may be set up on your site. There is a $7 charge for any overnight guest past your original 4 guest.
5. Parents are responsible for their children at all times. Children under 6 must be accompanied by an adult to and from the restrooms. Children under 14 must be accompanied by an adult to the swimming pool.
6. No washing clothes, dishes, ect. in the showers or sinks.
7. Fires must be built inside the fire ring. No burning of trash in the fire rings. ALL trash is to be placed in dumpster - No trash is to be left outside on picnic tables or on the ground.
8. No fireworks, including sparklers.
9. For your safety and the safety of others please no bike riding after dark.
10. All Golf carts are to be operated by licensed drivers only.
11. ALL visitors MUST be registered before Store Closing. No guest will be permitted after that point if not pre-registered. Guest are to leave the park by 11PM or will be considered an overnight guest. Ask at the office for guest pass rates.​
SPECIAL NOTE TO OUR PET GUEST:
Please have your master keep you on a leash at all times. Ask them not to tie you up outside in your yard and then just leave you there by yourself. When they take you for a walk, have them pick up any "accidents" that you have along the way. Please stay out of the swimming pool area, restrooms and showers, sorry theses are for your master's use only
QUIET TIME:
10PM to 8AM unless otherwise noted in the activity schedule. please enjoy yourselves but not at the expense of others. If your neighbor is too loud ask him/her about it nicely. if that doesn't work, tell us about it nicely. Children are to be at their campsite by 10PM.
​Campers or visitors who will not comply with the above listed or any other rules will be required to leave the campground immediately. Camp host have the right to enforce above rule and make new ones as they deem necessary for the situation at hand.
SORRY NO REFUNDS - 10MPH THROUGH ENTIRE PARK
THANKS FOR YOUR VISIT - HOPE TO SEE YOU AGAIN SOON!